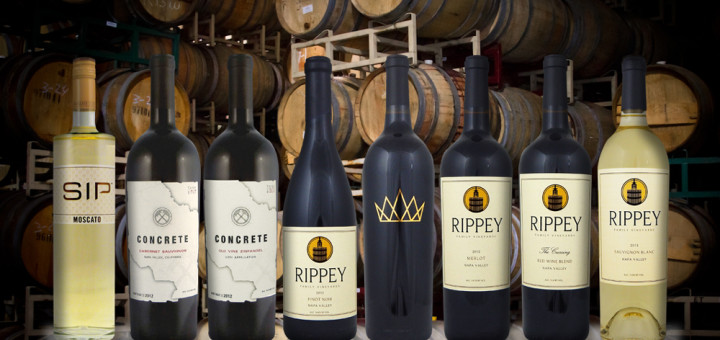 We have five new releases to add to our current selections.
Reign, 2014 Napa Valley Rose
Our Napa Valley Reign Rose has an attractive, soft blush color and is beautifully bright. On the nose, there are delicate notes of strawberry and rhubarb.
Tasting Notes: The expression of the Carneros Appellation is revealed on the palate by its impressive freshness bringing slight minerality and ripe fruit, a signature of 2014 Pinot Noir.
This wine shows great balance, good length and character.
Rippey Family Wines,
2014 Clarksberg Chenin Blanc
The 2014 Rippey Chenin Blanc is a classic summertime sipper, wonderfully crisp and refreshingly dry, this Chenin Blanc perfectly represents fruit from the Clarksberg AVA.
Tasting Notes: In the glass, fragrant aromatics such as white peach, melon and citrus are immediately appealing. This vintage displays the classic character of earth and crushed minerals that give the wine depth and nuance.
The palate is equally fine with excellent acid lifting the ripe apple and zesty citrus flavors.
Unfiltered Blonde, 2013 Sonoma Chardonnay
The 2013 Unfiltered Blonde Chardonnay was produced using fruit from select vineyards in Sonoma County and one vineyard in Napa Valley's Yountville AVA.
Winemaking Notes: 
The Sonoma County fruit was fermented in stainless steel tanks to preserve the varietal characteristics.
The Yountville portion was fermented in French oak barrels to give the wine a rich mouth feel and a kiss of oak.
Tasting Notes: Bright aromas of pear and apple mingle with sweet and toasty vanilla. A perfect balance of smooth and creamy texture and crisp acidity provide a lengthy finish
Rippey Family Wines,
2013 Lodi Petite Sirah
Tasting Notes: 
Characteristically, our 2013 Lodi Petite Sirah displays dense blackberry fruit character, mixed with black pepper notes.
This Petite Sirah is medium bodied, with great mouth feel, balance and a fairly long and pleasant finish.
This is a very well made wine that maintains exemplary varietal character, while crafted in a clean, simple, easy-drinking style.
Rippey Family Wines,
2013 Lodi Zinfandel
The distinctive characteristics of Lodi are reflected in our 2013 Old Vine Zinfandel. Deep garnet colors are reflected in the glass.
Tasting Notes: 
The nose greets you with rich aromas of red fruit and hints of vanilla and pepper. The wine boasts lush berry fruit flavors that are accented by cocoa, pepper, and vanilla.
The medium body features soft, integrated tannins that linger on the long finish.
SIP Moscato 
Created by our own Tyson Rippey, with winemakers Barry Gnekow, Joseph Smith and Mark Albrecht, it is one of our original wine selections.
Tasting Notes: 
You will immediately be drawn to the floral bouquet of this wine. It is a lightly sweet wine, with taste points of peach, sandalwood, orange blossom and lychee. Rich, refreshing and complex, this wine can be enjoyed on it's own or paired with fruits, nuts and deserts. Serve ice cold.
On select days our Tasting Room staff will create a sorbet made from our Moscato for our guests!
Our Reign 2012 Napa Valley Merlot displays expressive aromas of black cherry, red plum and pomegranate with a hint of toasty oak.
Rich and juicy on the palate, the Wine's concentrated dark cherry, plum and blackcurrant flavors are supported by fine tannins and balanced acidity. This leads to a long, fruitful finish showcasing pleasing cassis and toasty oak tones.
Red wines from cool years tend to develop slowly, so while our 2012 Reign Napa Valley Merlot is tasty now it will reveal the full scope of it's charm with age.
Concrete 2012 Old Vine Zinfandel
Vineyard Notes: The Lodi wine country is defined and Influenced by its proximity to the San Francisco Bay. Situated directly east of San Francisco and at the edge of the Sacramento River Delta. Our head-trained Old Vine Zinfandel vineyards were planted in the early 1900's are considered to be some of the oldest—yet still produce high quality fruit. As temperatures rise in the Central Valley during the day cool breezes in the evening are pulled directly across the Lodi region. This creates a distinctive climate that has allowed premium wine grapes to flourish in the area for over a century. The vines are planted in well-drained sandy loam soils which allow the vines to slowly draw water from deep-down over the course of the season. This produces uniform and well-balanced growth. The soil also sits directly in the path of cool coastal breeze influence; witch imparts excellent color and intense fruit flavor in the finished product.
Vintage Notes: The 2012 vintage was a blessing from Mother Nature after the low yielding in 2011. With the bountiful crop of excellent quality 2012 was a stellar year. It was the Ideal weather for grape growing, warm temperatures in the day and cool evenings allowed for even ripeness, well balance and concentration of the fruit. I really believe that 2012 vintage is going to be one to remember.
Winemaking Notes: Our goal for making this wine was to utilize all of the resource that was available to us and to create what we call a Vertical Profile Palate (VPP). We started off by picking our 2012 Zinfandel grapes between 25 to 27 Brix looking for the perfect balance of ripeness, natural acidity and flavors. Most Zinfandel ripened to a higher brix while still preserving its natural Acidity. The grapes were crush de-stem and separated as needed. The wine was produced by Flash Détente Process and Fermented in a combination of ways. Flash skins fermented in Concrete tanks that have been in production for over 75 years and Flash juice fermented in Oak Barrels.
Tasting Notes: This Zinfandel is a luscious, smooth full bodied wine with aromas of Blackberry, Bramble berry and all spice. It opens up to a sweet vanilla and toasty oak flavors. A concentrated core of well-balanced acidity, soft but firm tannins and a long lingering finish on the palate. The elements of the VPP in this wine are strongly pronounced, elevating the sensation of the wine to the roof of your mouth.This 2012 Zinfandel is tasty now but has the capability of aging through 2020.
Appellation: Lodi Blend: 85% Zinfandel, 10% Cab Franc and 5% Cab Sauv. Cooperage: 60% American Oak and 40% French Oak Barrel age: for 14 months
Concrete 2012 Napa Valley Cabernet Sauvignon 
Tasting Notes: Rich and luxurious, there is no mistaking the fullness and dry finish of a Napa Cabernet Sauvignon. Ours is delightful, complex wine of medium body. It has the flavors of black currant, vanilla and plum. Oak is imparted from our French casks.
Powerful now, it will match perfectly with red meat and game.  Wonderful with dishes spiced with pepper. Allow this bottle to age for up to eight years and it will mellow as the tannins soften. Pair with cheeses and buttery dishes. Serve this red wine between 61 and 64 degrees to allow the full flavor to develop.
Rippey Family Wines
2012 Napa Valley Merlot. The fruit is 100% Merlot, sourced from cool Napa Valley Carneros Vineyards as well as our family's ranch in the Napa Valley. Blackberry and cedar with a hint of fennel on the nose, followed by rich vanilla and spicy dark fruit flavors. A nice roundness in the middle is supported by supple tannins and a lingering finish. Great by itself, or with a broad range of grilled red meats or aged cheeses.
Winemaking Notes: We harvested our Napa Valley Merlot between October 20 and 25. The average brix was 23.5. Classic Bordelaise winemaking techniques were employed, including yeast selection, pump-over regime and fermenter type. This fruit was very nice and we purposely limited our interaction to let it express itself.
Rippey Family Wines
Napa Valley 2012 Pinot Noir
Tasting Notes: 100% Pinot Noir fruit. Appealing cherry and red currant fruit, with a potpourri of spices on the bouquet. Medium bodied with pronounced acidity and firm tannins on the finish. It is nicely balanced, in a slightly more powerful manner than usual for Pinot Noir. Pair with roast pork or duck. Our Pinot Noir goes equally well with vegetarian dishes incorporating mushrooms or root vegetables. The fruit for this wine comes from a cool vineyard site in the southern most part of the Napa Valley.
Winemaking Notes: After a short cold soak, part of this lot was allowed to undergo native fermentation and the rest we inoculated with a clean fermenting yeast. This allowed us the flexibility to blend the two varying styles back together to make a more complex wine. Fermented on the cool side in stainless steel. Aged with a blend of different oak types for eighteen months.
Rippey Family Wines, 
"The Crossing" Napa Valley Red Blend
43% Pinot Noir, 57% Merlot. The Merlot for this blend comes from the Oak Knoll appellation of Napa. The Pinot is from a cool, fog influenced site at the base of the Napa Valley. We harvested October fifteenth through the twentieth.
Winemaking Notes: This was a fun project, us thumbing our nose at Sideways. Other potential names were "Mernot" or "Bordugundy". The Merlot for this was fermented separately from the Pinot Noir, each made in the stylistic manner appropriate for their varietal. We then played with different aging regimes on both, and spent quite a bit of time on blending trials to get the balance just right. The Pinot was aged on oak for 18 months and the Merlot was kept in stainless to preserve the ripe fruit flavors.
Tasting Notes: A mix of red and dark berry aromas, with a hint of rose petal and black licorice. Lush mixed berry flavors indicative of the two varietals with a round fruit driven middle, followed by dry tannins on the finish that bring the wine into balance. The Crossing is a truly an approachable wine, with a surprising complexity achieved by the unusual blending of varietals. Pair with Mediterranean lamb dishes, or pastas with meat sauces.
Rippey Family Wines, 2013 Napa Valley Sauvignon Blanc
The fruit for this wine is hand-picked from our family vineyard in the foothills of the Napa Valley.
Tasting Notes: A fresh and lively Sauvignon Blanc with a crisp finish. Honeysuckle, grapefruit and subtle minerality in the bouquet, which carry through on the palate. Medium bodied, with a nice balance of citrus fruits that lead into a clean, bright finish. Enjoy with fresh shellfish dishes, salads with a citrus component, or any number of spicy dishes.
Winemaking Notes: We combined two different winemaking techniques in making our Napa Valley Sauvignon Blanc. To capture the classic Sauvignon Blanc character, a majority of the grapes were whole cluster pressed and fermented in stainless steel at a cool temperature. A select portion of the remaining grapes were run through a flash détente system which utilizes heat and vacuum to bring even more of the grapes natural fruit flavors and aromas to the surface, while limiting the grassy flavors.
Once primary fermentation is complete, we inhibit malolactic fermentation to retain the natural acidity profile. We age without oak influence in stainless for 9 months. We harvested between  September fourth through the 15th, with an average Brix of 23.3.